Better Backs for the Emotional Body
This class is taught by: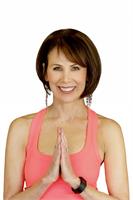 I'm a Registered Yoga Teacher 500, Licensed Clinical Psychologist, and Certified Enneagram Teacher . As yoga teacher since 2005, I work to integrate my knowledge as a psychologist with my calling as a yoga teacher by teaching therapeutic applications of yoga, with an emphasis on using yogic practices to heal the emotional body. I've sought additional certification through teacher training programs in Yoga for Depression & Anxiety, Yoga for Scoliosis, and Yoga and Mindfulness Meditation. You can learn more about me on my website: www.drrondadiegel.com
Better Backs postures integrated with breathing and other yogic techniques to calm the body in times of stress and energize when you're feeling blue. 55 minutes/78 degrees.
Upcoming classes:
Sign Up

Thu

Oct 26 11:00 am - 11:55 am

with

Ronda

Diegel




Thu

Nov 02 11:00 am - 11:55 am

with

Ronda

Diegel




Thu

Nov 09 11:00 am - 11:55 am

with

Ronda

Diegel




Thu

Nov 16 11:00 am - 11:55 am

with

Ronda

Diegel




Thu

Nov 30 11:00 am - 11:55 am

with

Ronda

Diegel




Thu

Dec 07 11:00 am - 11:55 am

with

Ronda

Diegel




Thu

Dec 14 11:00 am - 11:55 am

with

Ronda

Diegel




Thu

Dec 21 11:00 am - 11:55 am

with

Ronda

Diegel




Thu

Dec 28 11:00 am - 11:55 am

with

Ronda

Diegel