Zumba Sculpt
This class is taught by: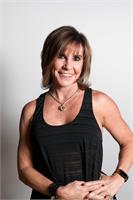 Did you know that Andrea has never lost a hula hoop contest, in fact she was on Bozo's Big Top show ( hula hooping of course!). Her bucket list includes going to Alaska and hiking through the Grand Canyon. Who would have guessed that her favorite songs are: Mama Mia, Hairspray, Grease! (only all of us that have been in her ZUMBA classes!)
_______________
I love the fact that life has led me down this road of health and enabled me to touch so many students' lives. I am truly passionate about offering a fitness, yoga and nutrition program that allows every student to look and feel his/her best and am SO grateful to be surrounded by an awesome staff who share my passion and a wonderful family who have supported me every step along the way. The training that I received in order to be able to effectively share my passions include my degree from MSU as a Registered Dietitian, A.C.E Fitness Certification and Yoga Certification provided by Jonny Kest's Center for Yoga as well as over 13 years of teaching experience. Look forward to having YOU in class!!
40 minutes Zumba class followed by weight training
Upcoming classes:
Sign Up

Fri

Dec 15 10:00 am - 10:55 am

with

.Andrea

Von Behren




Fri

Dec 22 10:00 am - 10:55 am

with

.Andrea

Von Behren




Fri

Jan 05 10:00 am - 10:55 am

with

.Andrea

Von Behren




Fri

Jan 12 10:00 am - 10:55 am

with

.Andrea

Von Behren




Fri

Jan 19 10:00 am - 10:55 am

with

.Andrea

Von Behren




Fri

Jan 26 10:00 am - 10:55 am

with

.Andrea

Von Behren




Fri

Feb 02 10:00 am - 10:55 am

with

.Andrea

Von Behren




Fri

Feb 09 10:00 am - 10:55 am

with

.Andrea

Von Behren




Fri

Feb 16 10:00 am - 10:55 am

with

.Andrea

Von Behren




Fri

Feb 23 10:00 am - 10:55 am

with

.Andrea

Von Behren




Fri

Mar 02 10:00 am - 10:55 am

with

.Andrea

Von Behren




Fri

Mar 09 10:00 am - 10:55 am

with

.Andrea

Von Behren




Fri

Mar 16 10:00 am - 10:55 am

with

.Andrea

Von Behren




Fri

Mar 23 10:00 am - 10:55 am

with

.Andrea

Von Behren




Fri

Mar 30 10:00 am - 10:55 am

with

.Andrea

Von Behren




Fri

Apr 06 10:00 am - 10:55 am

with

.Andrea

Von Behren




Fri

Apr 13 10:00 am - 10:55 am

with

.Andrea

Von Behren