Kickboxing
This class is taught by:
Hello! My name is Carey and I have been teaching aerobics for seven years. I started teaching aerobics at Michigan State University. I have been a member at Body Language for about five years and have been addicted ever since! My favorite class to teach at Body Language is Fitball. When I am not working out, I enjoy any type of activity that is outdoors! My other job is teaching. I teach second grade at Holly Elementary.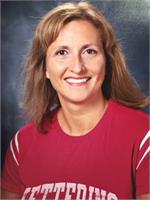 Hello I'm Toni. I have been teaching fitness classes since 1988. I started my fitness career at Bally's because "teaching a class seemed fun and hey you get paid to work out". I have been with Andrea at Body Language for so long – I can't remember when I started. Over the years I have taught fitness classes ranging from high impact, to high/low impact, to step, to yoga, to kickboxing. At Body Language I teach just about everything; however, my favorite to teach is – KICKBOXING!! I find Kickboxing a total body workout with very little impact – targeting the core area in every move. I have been IDEA/ACE certified since 1988. Just recently I became a certified TurboKick instructor. When not at Body Language – you can find me during the school year at Waterford Kettering High School – teaching history and language arts. During the summer – when not at Body Language – I like to travel – my favorite city – Paris! My favorite spot to recharge and contemplate life – Zermatt, Switzerland. I also have two lovely boys (golden retrievers) that I share my life with – Archimedes and Ignatius. I received my BA from Oakland University and then went to the University of Detroit/Mercy to become a certified elementary/secondary teacher. I then continued at UDM earning a MATM (Master of Arts in the teaching of Math). If I ever have the time (and money) I would like to return to school to earn my Ph.D. in curriculum and instruction for the social studies.
A butt kicking class! Punches, kicks, toning exercises and abs in this total body workout.
Upcoming classes:
Sign Up

Wed

Dec 13 6:30 pm - 7:25 pm

with

Carey A

Abraham




Sign Up

Tue

Dec 19 5:45 am - 6:40 am

with

Carey A

Abraham




Sign Up

Wed

Dec 20 6:30 pm - 7:25 pm

with

Carey A

Abraham




Wed

Dec 27 6:00 pm - 6:55 pm

with

Toni

Giglio




Tue

Jan 02 5:45 am - 6:40 am

with

Carey A

Abraham




Wed

Jan 03 6:30 pm - 7:25 pm

with

Carey A

Abraham




Wed

Jan 10 6:30 pm - 7:25 pm

with

Carey A

Abraham




Wed

Jan 17 6:30 pm - 7:25 pm

with

Carey A

Abraham




Wed

Jan 24 6:30 pm - 7:25 pm

with

Carey A

Abraham




Wed

Jan 31 6:30 pm - 7:25 pm

with

Carey A

Abraham




Wed

Feb 07 6:30 pm - 7:25 pm

with

Carey A

Abraham




Wed

Feb 14 6:30 pm - 7:25 pm

with

Carey A

Abraham




Wed

Feb 21 6:30 pm - 7:25 pm

with

Carey A

Abraham




Wed

Feb 28 6:30 pm - 7:25 pm

with

Carey A

Abraham




Wed

Mar 07 6:30 pm - 7:25 pm

with

Carey A

Abraham




Wed

Mar 14 6:30 pm - 7:25 pm

with

Carey A

Abraham




Wed

Mar 21 6:30 pm - 7:25 pm

with

Carey A

Abraham