Deb B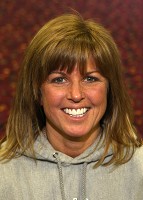 Deb's favorite hobby is to make and refurbish furniture out of wood. Her favorite food is pizza and her favorite book is The Art of Racing in the Rain.
Hi! I'm Deb Behnke. I have been teaching aerobics for 27 years. I started teaching at the orignal Body Language in 1979. I am blessed with 2 beautiful grandchildren Logan and Ella Rae who are pretty heavy into karate. Any extra time I have, other than working at the Detroit Gun Club, I like to spend it with my family. I love teaching aerobics-I love the people and the time it allows us to spend on ourselves making us better people. Working out to me isn't a job - It's a passion!
Deb B instructs the following:
Basic stepping with handheld weights. Great cardio workout and toning all in one!




Free weights and resistance tubing to sculpt, create strength and condition your body.




The barre is used as a prop to balance while doing exercises that focus on isometric strength training (holding your body still while you contract a specific set of muscles) combined with high reps of small range-of-motion movements




Lots of cardio to burn fat mixed in with heavy weights finishing up with core!




Kickboxing and weights all in one class!




Cross Training that focuses on agility, balance, mobility, and visible results.