Ricky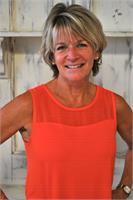 Body Language has been an important part of my life for a LONG time. I started as a member here in 1985 (!) Three owners and 3 locations later, I am still here - working out, practicing yoga, managing the desk, and teaching yoga. Guess you could say I really like this place! I decided to train for and teach yoga to others because it has had such a profound and positive effect on my own life. When I am not here, I am busy with my business as a fiber artist at home in West Bloomfield. My life is blessed with great friends, three wonderful children, and, as a yoga instructor, the opportunity to help my students find their way into yoga and all it has to offer.
Ricky instructs the following:
A vigorous flow of postures connecting breath to movement, build stamina, strength and flexibility while promoting weight loss. 90°. 70 minutes




A better backs class that allows deeper access to the body by holding passive postures longer to target the connective tissue and release tension.




A less intense version of vinyasa, combining vinyasa flows with better backs postures. 90°/78°. 55 minutes




Achieve balance between body and mind with postures and breath. Build physical and mental potential while maintaining a healthy spine and body. 55 minutes/78 degrees.• Against The Wall• Alignment• Candlelight• Emotional Healing• Massage




Allowing everyone in our community to enjoy yoga.
No Membership.
No Commitment.
Just Yoga.
A class for every body.


Every Friday

Every Sunday

Due to the popularity of this workshop online signup is strongly recommended.
Reservations can be cancelled up to four hours before class. Purchase is nonrefundable if not cancelled within the cancellation window.