.Andrea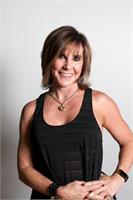 Did you know that Andrea has never lost a hula hoop contest, in fact she was on Bozo's Big Top show ( hula hooping of course!). Her bucket list includes going to Alaska and hiking through the Grand Canyon. Who would have guessed that her favorite songs are: Mama Mia, Hairspray, Grease! (only all of us that have been in her ZUMBA classes!)
_______________
I love the fact that life has led me down this road of health and enabled me to touch so many students' lives. I am truly passionate about offering a fitness, yoga and nutrition program that allows every student to look and feel his/her best and am SO grateful to be surrounded by an awesome staff who share my passion and a wonderful family who have supported me every step along the way. The training that I received in order to be able to effectively share my passions include my degree from MSU as a Registered Dietitian, A.C.E Fitness Certification and Yoga Certification provided by Jonny Kest's Center for Yoga as well as over 13 years of teaching experience. Look forward to having YOU in class!!
.Andrea instructs the following:
Dance fitness class which incorporates Latin and international dance music and moves. Most popular fitness class.




A better backs class that allows deeper access to the body by holding passive postures longer to target the connective tissue and release tension.




Achieve balance between body and mind with postures and breath. Build physical and mental potential while maintaining a healthy spine and body. 55 minutes/78 degrees. • Against The Wall • Alignment • Candlelight • Emotional Healing • Massage




Andrea would like to personally invite you to join her and Chris to watch her

all time favorite

musical: Mamma Mia.

They will be hosting this event at Milford Cinema located at 945 E Summit St, Milford on Thursday October 26th from 7:00 - 11:00pm.. "Sing along or not...dress the part or not...but definitely come join us!! Will be a blast!!"

$15 fee

Refundable with 24 hour notice




40 minutes Zumba class followed by weight training




with Andrea von Behren RD

This seminar will equip you with tangible ways to lower your cortisol which is the primary stress hormone in your system!! Elevated cortisol as a result of chronic stress is often a major contributor in our inability to lose those unwanted pounds as well as maintain our health. Ammunition will include making better food choices, changing frequency of eating, and tips on deepening your sleep all of which can affect our cortisol levels. The seminar will also help you better understand the role yoga plays in managing your stress and will be valuable not only in your own yoga practice but in sharing the benefits of yoga with others. Truly believe this is valuable information that will better your lives!! Would love to have you join me!!

$15 fee for workshop refundable with 24 hour notice




Join us for our 5th Annual Girls Wine Weekend November 10th - 12th! We'll do some unwinding, some yoga, some wine tasting and some dancing. Join old friends, make new friends and relax with us in beautiful northern Michigan at the Grand Traverse Resort and Spa.

Grab a friend and join us!
$545

$495 if you sign up by May 1st
This event is limited to 25 so sign up early!
($200 non refundable deposit to hold your spot)

Price includes lodging (double occupancy), wine shuttle and all tastings, welcome reception, sunday brunch, 3 yoga classes, nutritional seminar.