Herb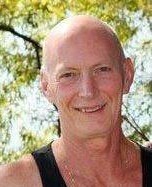 Herb's favorite food is anything from Inn Season, a vegetarian restaurant. Herb loves his trips to India and his favorite movie is Peaceful Warrior.
In 2002 I took my first Yoga class. It was six months later that I started a steady Yoga practice after meeting Andrea von Behren from Body Language. Everybody comes to their mats with different intentions; mine was for self-improvement, what I found was self-acceptance . Realizing how much Yoga had transformed my life I wanted to share this passion with other people, so I took my yoga teacher training with Andrea. Teaching from my own practice I offer compassion and a heart felt energy to my students. I have been blessed and fortunate enough that my work takes me to India a couple of times a year and can practice with masters there. It gives me a deep appreciation for the Body Language family. Namaste
Herb instructs the following:
Achieve balance between body and mind with postures and breath. Build physical and mental potential while maintaining a healthy spine and body. 55 minutes/78 degrees. • Against The Wall • Alignment • Candlelight • Emotional Healing • Massage




Start your weekend with variations of heat building Sun Salutations.