Mandy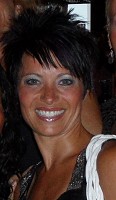 Hi!! My name is Mandy and I have been involved in teaching fitness since 2003, when I started teaching a step class in the Flint area. After having twin boys in 2005 I took a little break from teaching fitness. I attended a girls night out, Zumba night, with my mom and sister at Body Language and became completely obsessed. In May of 2008 I went to the Zumba Basic 1 training and started teaching classes that June. I absolutely love teaching Zumba and am thrilled to be teaching at Body Language. When I am not teaching Zumba, I teach 7th and 8th grade science at White Lake Middle school. I also spend as much time as possible with my amazing boys. Sam plays soccer and baseball, and Ethan takes dance classes. However, both boys continue to want to add activities to our schedule.
Mandy instructs the following:
Dance fitness class which incorporates Latin and international dance music and moves. Most popular fitness class.