Laura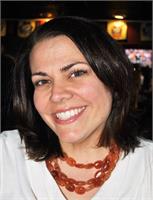 Laura's favorite hobby is painting, her favorite food is chocolate and her dream vacation is to visit Australia.
Laura Payment, OTR, LMT, Certified MELT Instructor My motto is "This is your massage!" Dependent on your needs, I can use a combination of Deep Tissue, Sweedish, Trigger Point Therapy, and stretching to meet your individual needs and I will do my best to facilitate healing. My passion is to massage and teach others how to self treat and prevent. I am a Licensed Massage Therapist, Certified Melt Instructor, and Occupational Therapist. I recieved my Bachelors of Science in Occupational Therapy from Wayne State University in 1998, and then persued Massage Therapy in 2008 at the Flint School of Therapeutic Massage. The MELT Method, "Hands off bodywork" became my tool of choice to control how my own body feels and to share with my clients for self care. I hope to help you find the benefits of Massage and Melt to keep you healthy and happy and living the best version of yourself!
Laura is currently not instructing any classes.