Coby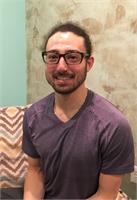 Jacob Shecter or "Coby" studied at Michigan State University and
graduated in 2013 with a B.S. in Kinesiology and a specialization in
health promotion. Coby currently works at lululemon athletica Novi in
Twelve Oaks mall and he studied yoga at Citizen Yoga where he got his
RYT certification. He is also a certified personal trainer from the
American College of Sports Medicine and currently teaches yoga at
Citizen Yoga, 90 Degrees North, Power Yoga and Body Language Fitness
and Yoga.
Coby instructs the following:
You will focus on holding postures to create heat and get deep into the muscle tissue. Class will be mostly guided.




A vigorous flow of postures connecting breath to movement, build stamina, strength and flexibility while promoting weight loss. 90°. 70 minutes