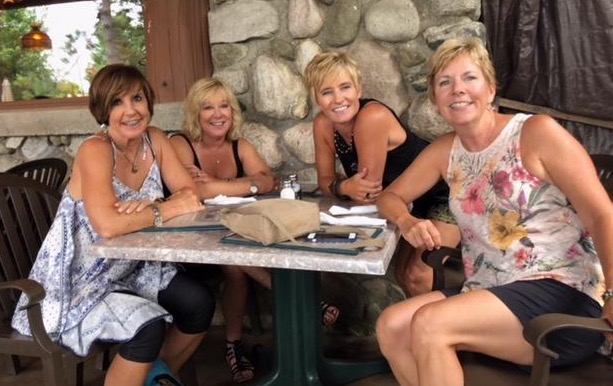 A couple of weekends ago I was headed to the Barefoot yoga festival at Proud Lake and at the last minute decided to change out of my leggings into shorts due to the steamy weather forecast. It was during the first down dog that I looked back at my knees and said to myself "when did that happen!?" Yikes!! Always doing yoga in leggings, I hadn't noticed that the skin above my knees was a bit crinkled and now sagging over my knees when upside down. Ugh!! I tried to shake it off and think yogic thoughts like...just be grateful your leg is healthy. Or that you even have a leg...right?? Or just close your eyes. But those critical thoughts kept creeping back into my brain.

So fast forward a few days and I'm driving up north with girlfriends and sharing this experience with them. We of course, as girlfriends will do, all jumped on the band wagon during this excursion by sharing the body parts that we weren't happy with or that we felt like needed a bit of assistance!! We pull into our destination restaurant and are seated next to two "elderly" couples (translated as older than us) and one of the women look over at us and says...look at all that firm skin!! Seriously??? Ha!! Stopped us in our tracks. Stopped the grumbling and self judgement and instantly put it all in perspective that 1)everything is relative and 2)to just be grateful for wherever you are!!

It was a powerful lesson to me that I thought worthy of sharing with all of you!! I know that my girlfriends and I are not alone in our self judgement and critical thinking about ourselves. I know that we can all learn from each other and our experiences in life to remind each other to be grateful for what we do have and to even embrace the changes in our bodies. (Super easy to say and super hard to do...I know). But challenging all of us to move forward in life focusing more on our strengths, our health, and the positive things in our lives. Worrying less about our blemishes, insecurities and areas of our lives and bodies that are less than perfect!!