MiniVini
This class is taught by: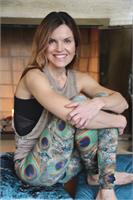 Jamie's journey of yoga began over 10 years ago, culminating in her certification as a Yoga Teacher. To Jamie, yoga is about revealing your own inner happiness through good music and compassionate surroundings, to find the joy yoga has brought her. She is inspired daily by her husband, 2 children and dog. She believes that what you put out is what you get and that everything we learn on the mat helps us to be healthier and happier off the mat!
A Vinyasa class with shorter flows!
Upcoming classes:
Sign Up

Mon

Dec 17 6:45 pm - 7:45 pm

with

Jamie

Oldfield




Sign Up

Sat

Dec 22 9:15 am - 10:15 am

with

Jamie

Oldfield




Sat

Dec 29 9:15 am - 10:15 am

with

Jamie

Oldfield




Sat

Jan 05 9:15 am - 10:15 am

with

Jamie

Oldfield




Mon

Jan 07 6:45 pm - 7:45 pm

with

Jamie

Oldfield




Sat

Jan 12 9:15 am - 10:15 am

with

Jamie

Oldfield




Mon

Jan 14 6:45 pm - 7:45 pm

with

Jamie

Oldfield




Sat

Jan 19 9:15 am - 10:15 am

with

Jamie

Oldfield




Mon

Jan 21 6:45 pm - 7:45 pm

with

Jamie

Oldfield




Sat

Jan 26 9:15 am - 10:15 am

with

Jamie

Oldfield




Mon

Jan 28 6:45 pm - 7:45 pm

with

Jamie

Oldfield




Sat

Feb 02 9:15 am - 10:15 am

with

Jamie

Oldfield




Mon

Feb 04 6:45 pm - 7:45 pm

with

Jamie

Oldfield




Sat

Feb 09 9:15 am - 10:15 am

with

Jamie

Oldfield




Mon

Feb 11 6:45 pm - 7:45 pm

with

Jamie

Oldfield




Sat

Feb 16 9:15 am - 10:15 am

with

Jamie

Oldfield




Mon

Feb 18 6:45 pm - 7:45 pm

with

Jamie

Oldfield




Sat

Feb 23 9:15 am - 10:15 am

with

Jamie

Oldfield