Power Pilates
This class is taught by: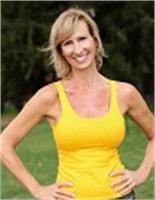 Marie Is a full STOTT PILATES Certified Instructor (Mat, Reformer, Cadillac, Chair and Barrels, Injuries and Special Populations) also certified in Zumba, PiYo, and a personal trainer. Whether in a class or a private session Marie utilizes her Pilates training and fitness experience to create a fun but challenging workout. Incorporating balance, strength and flexibility exercises to help her clients achieve stronger and healthier bodies. From the athlete to the post rehab client she will design a workout to help you achieve your goals.
Several Years of experience teaching fitness classes, personal training and wellness advising. Bachelor of Exercise Science, Wellness & Health Promotion from Oakland University. On a more serious note I expect my students to sweat, workout like it's their last and NOT drop their quarter!
Through precision and control you will tone and lengthen from head to toe
Upcoming classes:
Sign Up

Wed

Dec 19 11:00 am - 11:50 am

with

Marie

Volansky




Wed

Dec 26 11:00 am - 11:50 am

with

Tricia

Auten




Wed

Jan 02 11:00 am - 11:50 am

with

Tricia

Auten




Wed

Jan 09 11:00 am - 11:50 am

with

Marie

Volansky




Wed

Jan 16 11:00 am - 11:50 am

with

Marie

Volansky




Wed

Jan 23 11:00 am - 11:50 am

with

Marie

Volansky




Wed

Jan 30 11:00 am - 11:50 am

with

Marie

Volansky




Wed

Feb 06 11:00 am - 11:50 am

with

Marie

Volansky




Wed

Feb 13 11:00 am - 11:50 am

with

Marie

Volansky




Wed

Feb 20 11:00 am - 11:50 am

with

Marie

Volansky




Wed

Feb 27 11:00 am - 11:50 am

with

Marie

Volansky




Wed

Mar 06 11:00 am - 11:50 am

with

Marie

Volansky




Wed

Mar 13 11:00 am - 11:50 am

with

Marie

Volansky




Wed

Mar 20 11:00 am - 11:50 am

with

Marie

Volansky




Wed

Mar 27 11:00 am - 11:50 am

with

Marie

Volansky




Wed

Apr 03 11:00 am - 11:50 am

with

Marie

Volansky




Wed

Apr 10 11:00 am - 11:50 am

with

Marie

Volansky




Wed

Apr 17 11:00 am - 11:50 am

with

Marie

Volansky