Crazy Cardio Cross Training
This class is taught by: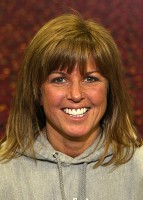 Hi! I'm Deb Behnke. I started teaching at the orignal Body Language in 1979. I am blessed with 3 beautiful grandchildren. Any extra time I have, other than working at the Detroit Gun Club, I like to spend it with my family. I love teaching aerobics-I love the people and the time it allows us to spend on ourselves making us better people. Working out to me isn't a job - It's a passion!
___
Deb's favorite hobby is to make and refurbish furniture out of wood. Her favorite food is pizza and her favorite book is The Art of Racing in the Rain.
Lots of cardio to burn fat mixed in with heavy weights finishing up with core!
Upcoming classes:
Sign Up

Tue

Dec 18 5:45 am - 6:40 am

with

Deb B

Behnke




Tue

Jan 08 5:45 am - 6:40 am

with

Deb B

Behnke




Tue

Jan 15 5:45 am - 6:40 am

with

Deb B

Behnke




Tue

Jan 22 5:45 am - 6:40 am

with

Deb B

Behnke




Tue

Jan 29 5:45 am - 6:40 am

with

Deb B

Behnke




Tue

Feb 05 5:45 am - 6:40 am

with

Deb B

Behnke




Tue

Feb 12 5:45 am - 6:40 am

with

Deb B

Behnke




Tue

Feb 19 5:45 am - 6:40 am

with

Deb B

Behnke




Tue

Feb 26 5:45 am - 6:40 am

with

Deb B

Behnke




Tue

Mar 05 5:45 am - 6:40 am

with

Deb B

Behnke




Tue

Mar 12 5:45 am - 6:40 am

with

Deb B

Behnke




Tue

Mar 19 5:45 am - 6:40 am

with

Deb B

Behnke




Tue

Mar 26 5:45 am - 6:40 am

with

Deb B

Behnke




Tue

Apr 02 5:45 am - 6:40 am

with

Deb B

Behnke




Tue

Apr 09 5:45 am - 6:40 am

with

Deb B

Behnke




Tue

Apr 16 5:45 am - 6:40 am

with

Deb B

Behnke