Vinyasa Play
This class is taught by: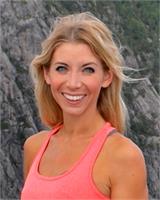 Did you know Susan won an award for designing a dress made out of toilet paper? Her dream vacation is to go back to Norway, and her favorite book is The Alchemist.
Hello! I have always enjoyed fitness and have been a cheerleader for many years. I'm currently a member of the Detroit Pistons Cheer Team. I began practicing yoga (at Body Language) in 2009 after my lung randomly collapsed. I used it as a way to heal and strengthen my body. I consider my personal practice to be playful with strong determination. That comes across in my teaching as well. I feel it is a great honor to be able to share this wonderful gift with others. I look forward to seeing you on your mat!
2 flows leading up to the pose of the day
Upcoming classes:
Sign Up

Sat

Dec 22 10:25 am - 11:20 am

with

Susan

Brennan




Sat

Dec 29 10:25 am - 11:20 am

with

Susan

Brennan




Sat

Jan 05 10:25 am - 11:20 am

with

Susan

Brennan




Sat

Jan 12 10:25 am - 11:20 am

with

Susan

Brennan




Sat

Jan 19 10:25 am - 11:20 am

with

Susan

Brennan




Sat

Jan 26 10:25 am - 11:20 am

with

Susan

Brennan




Sat

Feb 02 10:25 am - 11:20 am

with

Susan

Brennan




Sat

Feb 09 10:25 am - 11:20 am

with

Susan

Brennan




Sat

Feb 16 10:25 am - 11:20 am

with

Susan

Brennan




Sat

Feb 23 10:25 am - 11:20 am

with

Susan

Brennan




Sat

Mar 02 10:25 am - 11:20 am

with

Susan

Brennan




Sat

Mar 09 10:25 am - 11:20 am

with

Susan

Brennan




Sat

Mar 16 10:25 am - 11:20 am

with

Susan

Brennan




Sat

Mar 23 10:25 am - 11:20 am

with

Susan

Brennan




Sat

Mar 30 10:25 am - 11:20 am

with

Susan

Brennan




Sat

Apr 06 10:25 am - 11:20 am

with

Susan

Brennan




Sat

Apr 13 10:25 am - 11:20 am

with

Susan

Brennan