Melinda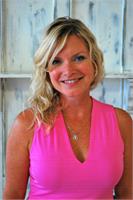 Hi Everyone! My name is Melinda I was born and raised in Michigan. I have a wonderful husband and five children, so my home is filled with lots of energy (you can imagine). I have always worked out trying different programs and classes. I fell in love with Zumba at Body Language and became a certified Zumba instructor in 2011. Zumba has brought a unique balance to my life, allowing me to put my dancing shoes on and just have fun!
Melinda instructs the following:
A less intense, low impact version of our Zumba classes. 55 minutes.




Achieve balance between body and mind with postures and breath. Build physical and mental potential while maintaining a healthy spine and body. 55 minutes/78 degrees. • Against The Wall • Alignment • Candlelight • Emotional Healing • Massage




Yoga breath exercises (pranayama) and meditation practices that will leave you feeling refreshed, calm, and centered.




Better Backs postures integrated with breathing and other yogic techniques to calm the body in times of stress and energize when you're feeling blue. 55 minutes/78 degrees.




Calling all Reiki practitioners!

Give Reiki! Get Reiki!

On Saturday Feb 9th 1-4pm

Hosted by Body Language Reiki Master Melinda Szwak

Reiki Share is only $5.00

Reiki is a hands on/off healing technique that allows energy to be passed from an attuned Reiki practitioner to their client. We gather to give Reiki Treatments to each other, share techniques and network. All you need is Reiki I Certification.

Don't have a Reiki one attunement? Attend our Reiki I & II certification March 22 & 24.