Susan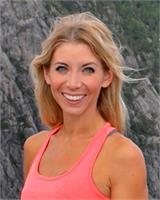 Did you know Susan won an award for designing a dress made out of toilet paper? Her dream vacation is to go back to Norway, and her favorite book is The Alchemist.
Hello! I have always enjoyed fitness and have been a cheerleader for many years. I'm currently a member of the Detroit Pistons Cheer Team. I began practicing yoga (at Body Language) in 2009 after my lung randomly collapsed. I used it as a way to heal and strengthen my body. I consider my personal practice to be playful with strong determination. That comes across in my teaching as well. I feel it is a great honor to be able to share this wonderful gift with others. I look forward to seeing you on your mat!
Susan instructs the following:
A less intense version of vinyasa, combining vinyasa flows with better backs postures. 90°/78°. 55 minutes




A better backs class that allows deeper access to the body by holding passive postures longer to target the connective tissue and release tension.




Achieve balance between body and mind with postures and breath. Build physical and mental potential while maintaining a healthy spine and body. 55 minutes/78 degrees. • Against The Wall • Alignment • Candlelight • Emotional Healing • Massage




A vigorous flow of postures connecting breath to movement, build stamina, strength and flexibility while promoting weight loss. 90°. 70 minutes




2 flows leading up to the pose of the day




Allowing everyone in our community to enjoy yoga.
No Membership.
No Commitment.
Just Yoga.
A class for every body.


Every Friday

Every Sunday

Due to the popularity of this workshop online signup is strongly recommended.
Reservations can be cancelled up to four hours before class. Purchase is nonrefundable if not cancelled within the cancellation window.