Stephanie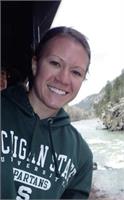 I became a Zumba instructor in 2011 and intended fitness to be a small hobby to aid in my recovery from a partial ACL tear. I became addicted to fitness and held classes for my classmates as a healthy outlet through graduate school. After graduating from the Michigan State College of Veterinary Medicine in 2015 I realized Zumba was much more than a workout and stress reliever from my full-time job, but a gateway to friendships, coaching others toward fitness goals, and making fitness FUN for my participants! I have since obtained other certifications, my favorite being STRONG by Zumba. I am so excited to be part of the Body Language fitness family!!
Stephanie instructs the following:
Dance fitness class which incorporates Latin and international dance music and moves. Most popular fitness class.