Toni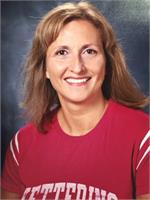 Hi friends! I've been teaching group fitness classes for over 25 years. I hold certifications in TurboKick, Piyo, Ripped, Schwinn indoor cycling, Z-Box, Zumba and yoga. I also teach Tabata and strength training. I love to workout and I look forward to having you in class. When I'm not here teaching a class you can find me teaching at Waterford Kettering high school. My other passions are gardening, traveling and of course hanging out with my beloved dogs (Hucky and Toby). Rock on peeps!
Toni instructs the following:
A butt kicking class! Punches, kicks, toning exercises and abs in this total body workout.




Tabata is High-intensity interval training (HIIT) and an exercise strategy that is intended to improve performance with short training sessions lasting only four minutes.




Free weights and resistance tubing to sculpt, create strength and condition your body.