Courtney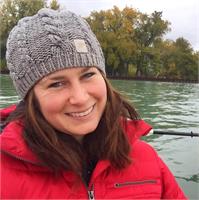 Courtney believes that in order to move your mind, you need to move your body. A certified yoga teacher, Certified Co-Active Coach (CPCC) and an Associate Certified Coach (ACC), Courtney is also a certified Paddlefit Level 2 instructor and teaches Stand-Up Paddleboard (SUP) classes. She founded Inspired By Movement and loves to combine yoga with coaching and essential oils to help slow people down enough to encourage them to move from their head to their heart.
She is also a distributor of Young Living Essential Oils with Body Language. This community of wellness is committed to providing pure, powerful products through Young Living's proprietary Seed to Seal production process and offers support in learning more about living a chemical free lifestyle.
"Yoga reminds me to be present. I came to my mat originally due to back pain and stayed because it was the one place that I knew served as a reset. I love how the practice reminds me to not take myself so seriously, to go with the flow, to listen to my body and that showing up and breathing is enough."
Courtney instructs the following:
A vigorous flow of postures connecting breath to movement, build stamina, strength and flexibility while promoting weight loss. 90°. 70 minutes