.Chris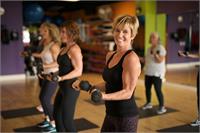 Hi Guys, I have been teaching group fitness for about 28 years now, 22 years right here at Body Language! I love my job! I teach mostly weight training and Zumba classes and occasionally you will see me behind the front desk managing things! Dont be a stranger, I would love to see you in class! Lets do this!
.Chris instructs the following:
Free weights and resistance tubing to sculpt, create strength and condition your body.