.Andrea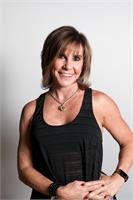 I love the fact that life has led me down this road of wellness and enabled me to touch so many students' lives. I am truly passionate about offering a fitness, yoga and nutrition program that allows every student to look and feel his/her best. I am SO grateful to be surrounded by an awesome staff who share my passion and a wonderful family who have supported me every step along the way. The training that I received in order to be able to effectively share my passions include my degree from MSU as a Registered Dietitian, A.C.E Fitness, and Yoga Alliance Certification as well as over 20 years of teaching experience. I look forward to having YOU in class!!
.Andrea instructs the following:
40 minutes Zumba class followed by weight training




Dance fitness class which incorporates Latin and international dance music and moves. Most popular fitness class.