Jamie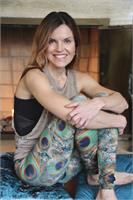 Jamie's journey of yoga began over 10 years ago, culminating in her certification as a Yoga Teacher. To Jamie, yoga is about revealing your own inner happiness through good music and compassionate surroundings, to find the joy yoga has brought her. She is inspired daily by her husband, 2 children and dog. She believes that what you put out is what you get and that everything we learn on the mat helps us to be healthier and happier off the mat!
Jamie instructs the following:
A Vinyasa class with shorter flows!




Achieve balance between body and mind with postures and breath. Build physical and mental potential while maintaining a healthy spine and body. 55 minutes/78 degrees. • Against The Wall • Alignment • Candlelight • Emotional Healing • Massage




A vigorous flow of postures connecting breath to movement, build stamina, strength and flexibility while promoting weight loss. 90°. 70 minutes




Yoga breath exercises (pranayama) and meditation practices that will leave you feeling refreshed, calm, and centered.




A less intense version of vinyasa, combining vinyasa flows with better backs postures. 90°/78°. 55 minutes




Allowing everyone in our community to enjoy yoga.
No Membership.
No Commitment.
Just Yoga.
A class for every body.


Every Friday

Every Sunday

Due to the popularity of this workshop online signup is strongly recommended.
Reservations can be cancelled up to four hours before class. Purchase is nonrefundable if not cancelled within the cancellation window.